CRE-DH Impact Evaluation Report
---
A report evaluating the impact of the Centre of Research Excellence in Disability and Health from 2016 to 2022.
The goal of the CRE-DH was to identify implementable and cost-effective policy interventions that improve the health of working-age disabled Australians. This report presents the impact evaluation of the CRE-DH and summarises its activities and contributions more generally. Information from program outputs, an investigator survey, and stakeholder interviews reveal how the Centre has contributed to policy, practice, and new ways of working. The work during this period was funded by an National Health and Medical Research Council (NHMRC) program grant.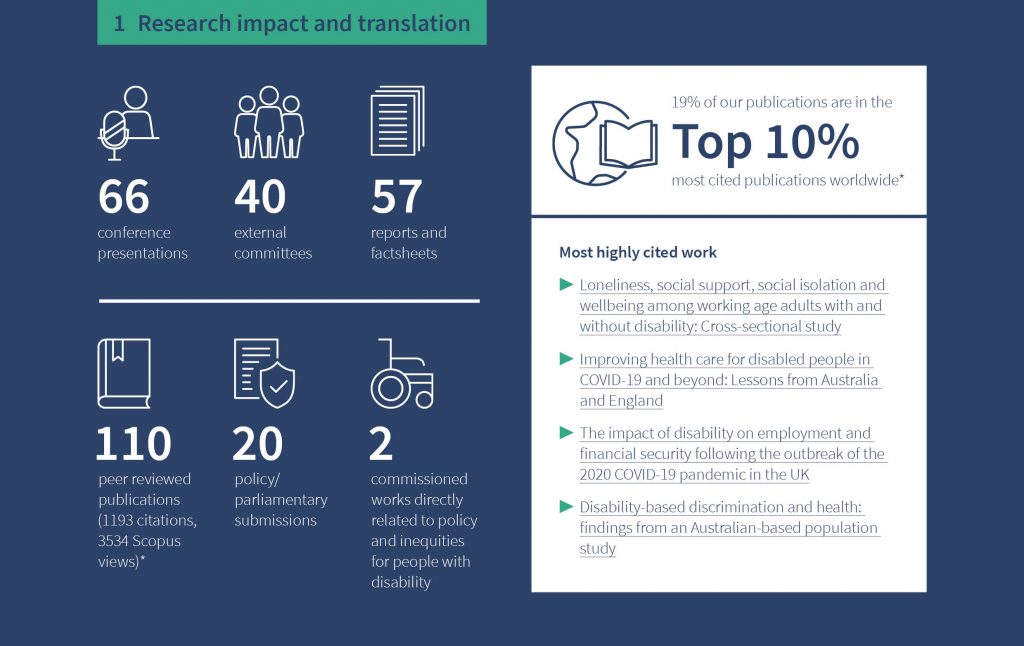 External stakeholders generally agreed that the CRE-DH "Developed an evidence base that can help us do our work". Government agencies particularly appreciated receiving timely evidence about current issues they were working on.
"The CRE-DH developed a full evidence base that brings all of the data together and it disaggregates by sex and it isn't ableist. And that's unusual" – External stakeholder
The CRE-DH involved people with disability as co-designers in framing research and interpreting the results. This ensured that what matters most for people with disability was captured and that the outputs were fit-for-purpose.
Drawing on the expertise of people with disability improved the quality of the CRE-DH outputs by ensuring they were grounded. An example is the Disability and Wellbeing Monitoring Framework, where for the first time, people with lived experience of disability identified which social determinants mattered most to them.
Members of the CRE-DH research team also had lived experience of disability and this priority was illustrated in the authorship of outputs.

The six-year duration of the CRE-DH provided stability for those wanting evidence about disability and health, which was especially valued by public servants who moved positions and/or departments during these years.
"The reports come out and I can immediately rely on them. It is a source of truth and one that I can rely on…there's almost no data capacity in the advocacy sector and we need this". – External stakeholder
---
Art on front cover: Kate Knight, Untitled. Courtesy of the artist and Arts Project Australia.
---
Reports:
Centre of Research Excellence in Disability and Health: Impact Evaluation Report, 2016 – 2022 (Web Report)