The value of part time work for Disability Employment Service participants
---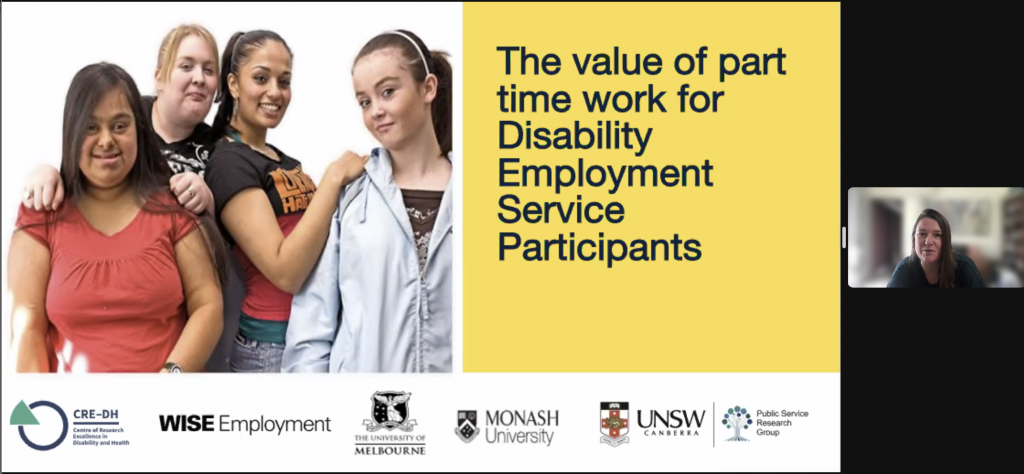 This webinar was held on 29 March 2023.
This webinar launched new research investigating the value of part time work for individuals in the Disability Employment Service (DES) program. The research was undertaken by a researchers from the CRE-DH in partnership with WISE employment.
The research involved focus groups with DES participants and consultants and analysis of survey and administrative data to quantify the impact of part time employment in terms of government services to the individual.
The webinar explores what DES participants told us the value of part time work is to them and what the quantitative data suggests the impact of part time work is on mental health and the impact on use of health services. Finally we explore what these findings mean in terms of current policy and practice of DES services.
Presentations:
Professor Helen Dickinson - Co-director, Public Service Research Group, UNSW Canberra
Dr Zoe Aitken - Senior Research Fellow In Social Epidemiology, Melbourne School of Population and Global Health, University of Melbourne
Ary Laufer - Deputy Chief Executive Officer, WISE Employment
Professor Dennis Petrie - Centre for Health Economics, Monash University
---
Watch the recording of the event