CRE-DH LAUNCH EVENT
---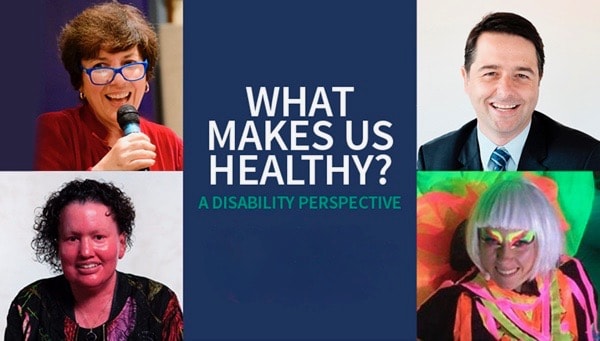 The Centre was formally opened by the Disability Discrimination Commissioner Alastair McEwin on Tuesday 27 June, 2017.
A panel event featuring the Commissioner, media personality Julie McCrossin, performer Emily Dash, and journalist Carly Findlay, coincided to celebrate the launch.
Commissioner McEwin remarked on the role of the new centre "to challenge the assumptions that people with disabilities cannot be included equally within society – this includes access to health, and we know that if we have access to good quality health services, we can really participate equally in the fields of education, employment, community – just as everybody does."
Emily Dash reflected on the things that enable resilience and make her life richer: "Health is not the absence of illness … it's about having meaningful roles in our society. So for me that means having meaningful connections, and also finding work and finding way to spend my time. That makes me and other people, feel like a valuable human being."
Professor Kavanagh says research at the new centre will focus on working-age adults (15 – 64 years old) to breakdown the barriers to employment, housing and financial stability for Australians with disabilities through policy reform.
"This will not only have health benefits for those wanting to work, but enormous economic benefits as well. By producing a comprehensive and systematic knowledge base, researchers at the Centre will determine the most cost-effective policy interventions, in terms of better health for people with disabilities as well as the best value for money."
It is hoped a better understanding of factors that influence the health of Australians with disabilities will translate to widespread policy reform to support their improved health.
---
Watch the video, slide-show or read the whole transcript of the event
Read: A full transcript of the event (unedited) is available here (Word doc)
View: Photographs from the event here
Watch: A short video with highlights is available.
Thanks to our event partners for their support
Melbourne Neuroscience Institute | Melbourne Social Equity Institute