Stewarding Thin Markets: Improving NDIS Market Effectiveness
---

"Improving NDIS market effectiveness and equity" asks what helps to manage the new National Disability Insurance Scheme (NDIS) market so that services remain available, accessible and of good quality.  This project aims to develop methodologies to identify thin markets in the public service sector. Thin markets, where there are a low number of buyers or low number of sellers, are a major risk for governments utilising a personalised approach to service delivery. When markets aren't in place, or there aren't enough providers within them (known as market failures or thin markets) the goals of the NDIS to create choice and control for people with a disability cannot be reached.
We are developing innovative new methods to allow governments to track markets in contexts like the NDIS. We are using a new method called 'Functional Network Analysis' in three case study areas across Australia – Canberra region, north east Melbourne area and the Goldfields in Western Australia.
Through interviews and focus groups we will bring together practitioners, service providers, and government to identify how, and who, can address market issues.  This process develops 'market stewardship' capabilities for the NDIS. 
---
Research Team
A/Professor Gemma Carey, University of New South Wales
Professor Helen Dickinson, University of New South Wales
Professor David Gilchrist, University of Western Australia
Dr Damon Alexander, Swinburne University of Technology
Professor Anne Kavanagh, University of Melbourne
Professor Satish Chand, University of New South Wales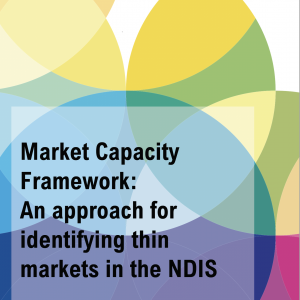 Partners
National Disability Services, Department of Social Services, University of New South Wales, Swinburne University, University of Melbourne, University of Western Australia.
Funded by an Australian Research Council Linkage grant. 
Media
Research Outputs
All our research publications are available for download here.