Disadvantage facing young people with disability: what's changed over time?
---
In Australia, young people with disability aged 15 to 24 years, experience disadvantage in many areas of their lives.
We wanted to improve our understanding of the circumstances and extent of disadvantage among young people with disability in Australia, and most of the evidence we have is based on long-term surveys designed to be representative of the entire population.

We used data from the HILDA survey, run by the Melbourne Institute of Applied Economic and Social Research at the University of Melbourne to find out what had changed for young people wth disability, what areas of life had remained the same and what had become worse.
Looking at the survey findings from 2001-2018, outcomes improved for young people with disability in four areas of life. That means their level of education improved (Year 12 or Certificate 2). They reported they were feeling safer in the community. Income poverty and financial hardship decreased over time, and they experienced less violence and property crime.
However for the remaining 9 indicators measured, outcomes for young people with disability stayed the same or got worse. These outcomes span the health and wellbeing, social connections and community life, work and study and their financial circumstances.
UNEMPLOYMENT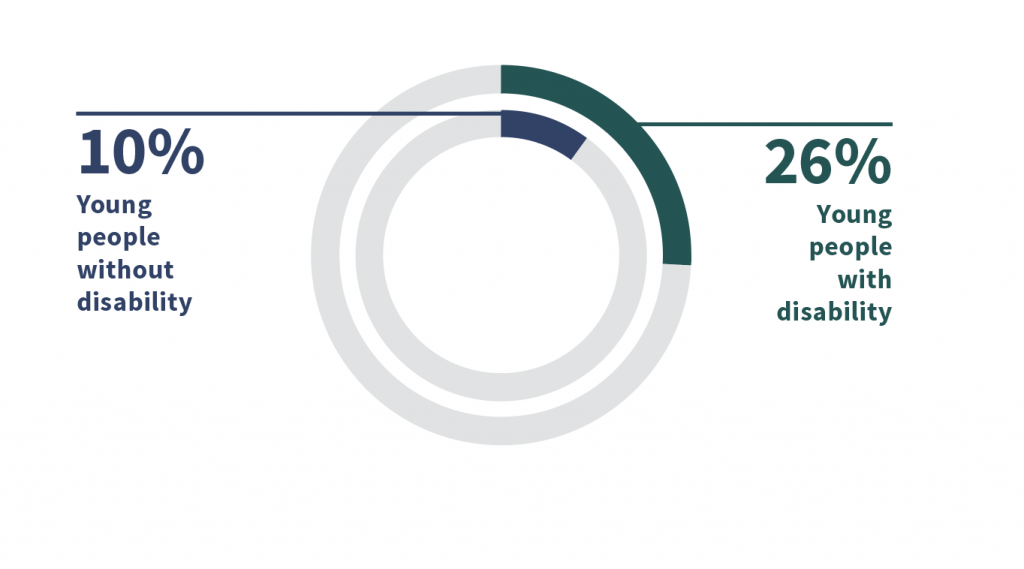 Inequalities between young people with disability and young people without disability decreased over this 18-year period in the following areas:
Education attainment
Feeling safe
Violence or property crime
For the remaining 10 indicators, inequalities stayed the same or increased.
When we looked at the most recent data from 2018, we found that young people with disability were disadvantaged relative to young people without disability on all 13 indicators. The indicators are categorised under health and wellbeing, employment and education, social connectedness, community connectedness and material hardship.
It is clear that for young people with disability, the chances of disadvantage becoming an enduring feature of life are much higher than previously thought. Despite the fact that many young Australians with disability are doing it really tough, we are seeing some improvements, although slow, for young people with disability in Australia.