Disability Support Work during COVID-19
---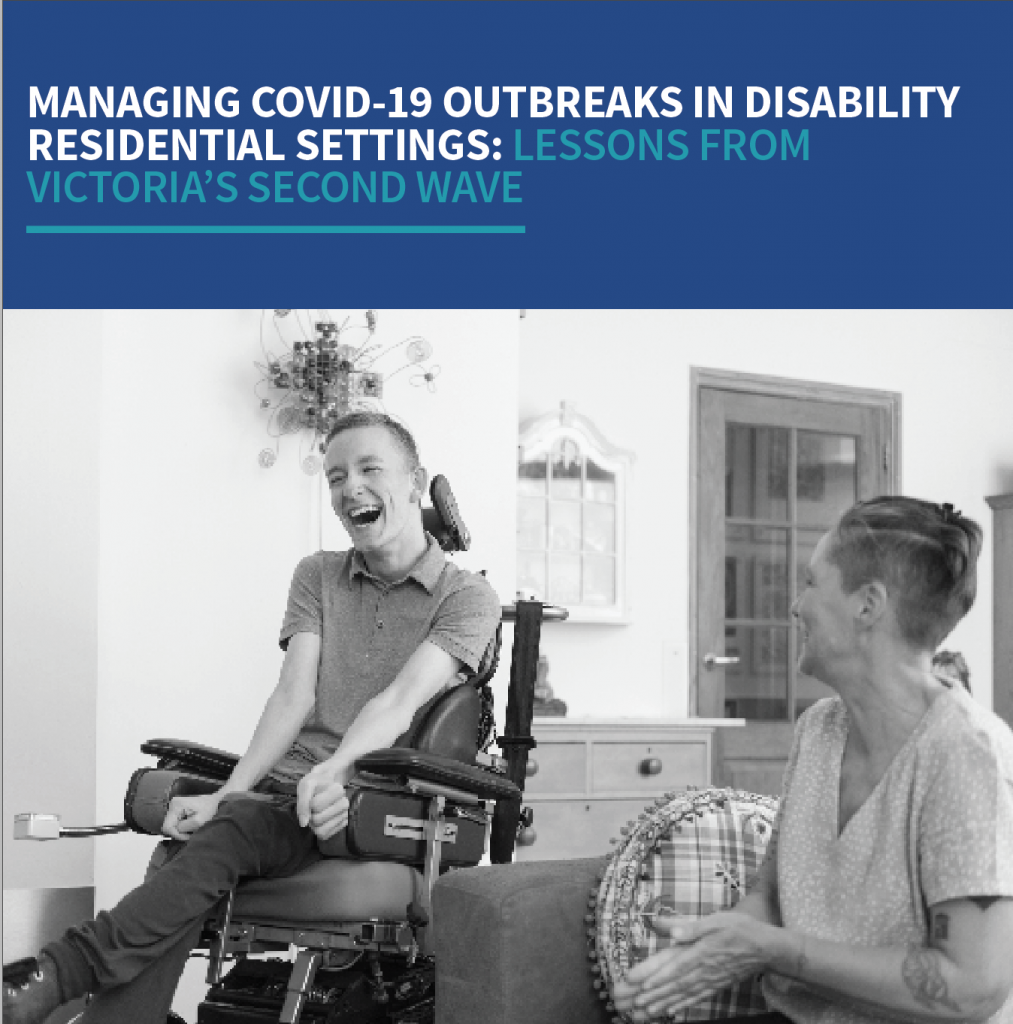 Our latest report looks at outbreaks of COVID-19 in disability residential care during Victoria's second wave, in June-October 2020.
The report describes what managers and their staff experienced during this time, including issues around access to information, communication within their organisation, COVID-19 training, access to Personal Protective Equipment (PPE), testing and contact tracing.
The study provides important insights into the challenges experienced by staff working in Victorian disability residential settings in the second wave of Victoria's COVID-19 pandemic.
We make recommendations to government on how to better protect residents and staff working in disability residential care to prevent further transmission of COVID-19.
---

Disability Support Work and the impacts of COVID-19 – Research Report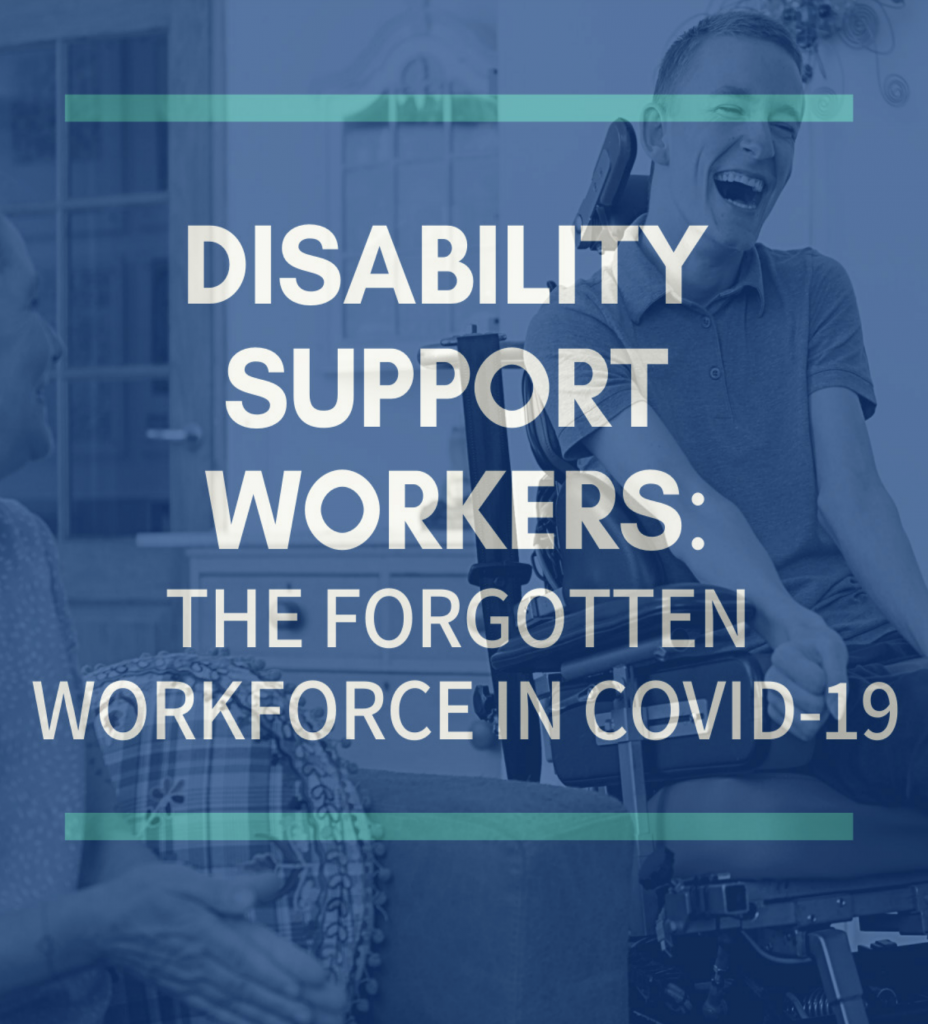 The research report Disability Support Workers: The Forgotten Workforce in COVID-19 describes the findings from a national on-line survey of 357 disability support workers (DSWs) conducted between May and June 2020.
This research has important findings on how to prevent COVID-19 transmission in the disability community.
Researchers from the University of Melbourne and the University of NSW Canberra conducted a survey of disability support workers about their initial experiences of COVID-19. Workers were asked about physical distancing, access to PPE, training and testing and the financial and psychological impacts during the pandemic.
Respondents ranged from 18-75 years, 83% were women, and 31% were over 50. Like health and aged-care workers, DSWs can't physically distance given the close personal contact required in their job. In the week before the survey, they worked with an average of six different people with disability.
The survey found these workers faces significant financial hardship. Of those who took time off due to illness, only 47% were paid, reflecting the workforce's casual nature. Thirty-four per cent faced financial difficulties such as not being able to pay a bill on time or pay their rent.
The researchers have made recommendations to government about updating PPE guidelines, proactively reaching out to DSWs so they can receive the required training, ensuring they have access to pandemic leave and making sure expert health staff can provide back-up if needed.
The survey reflects the situation for workers when PPE was just being made available to workers after a marked shortage in March and April. With cases now rising in Victoria, PPE became compulsory for DSWs in hot spot areas on 17 July 2020.
"COVID-19 really emphasised in my mind how overlooked the disability sector is. At the beginning the government kept talking about health care workers and nursing homes but I never heard any mention of disability. It left us in unknown territory and felt like we had just been forgotten and weren't as important as other workers" (Survey participant).
A follow up report from the second survey of disability support workers conducted in October 2020 can be downloaded below.
---
Disability Support Work and the impact of COVID-19 – Wave 2 Research Findings
A follow up survey conducted in October 2020 was also conducted findings from that report can be downloaded from the side menu.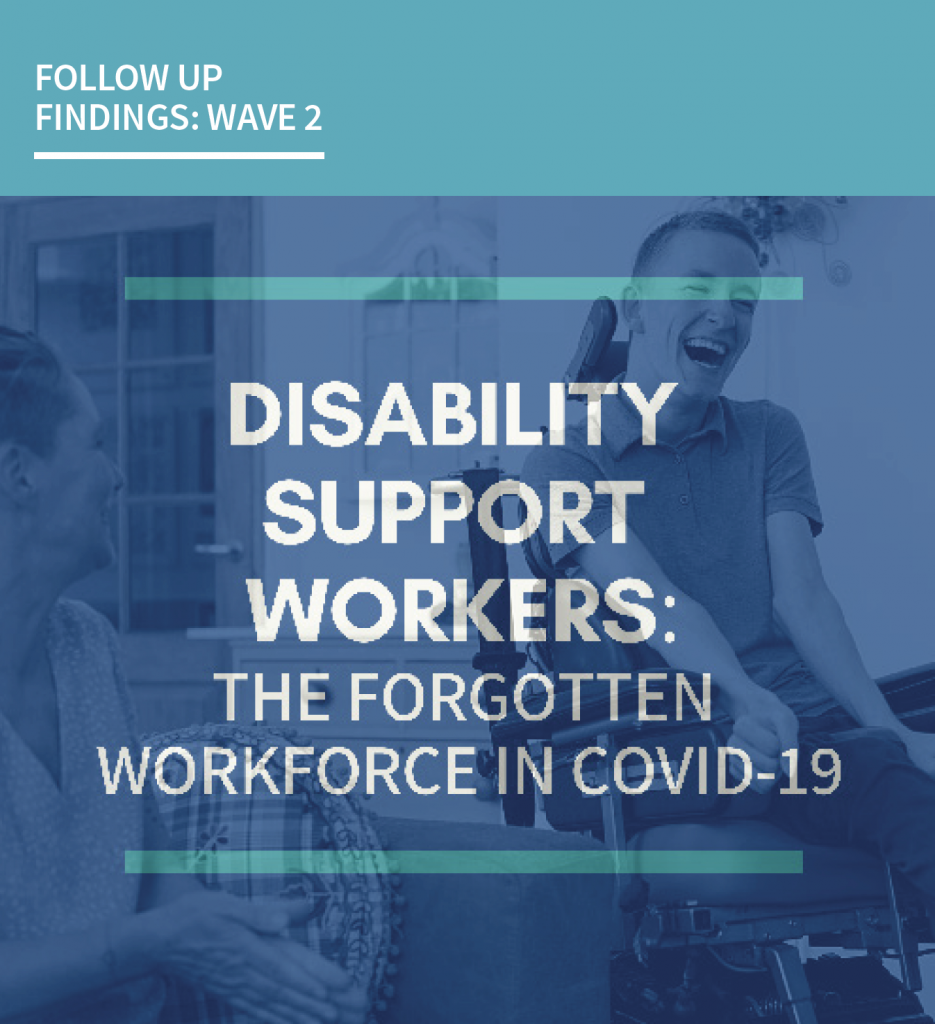 ---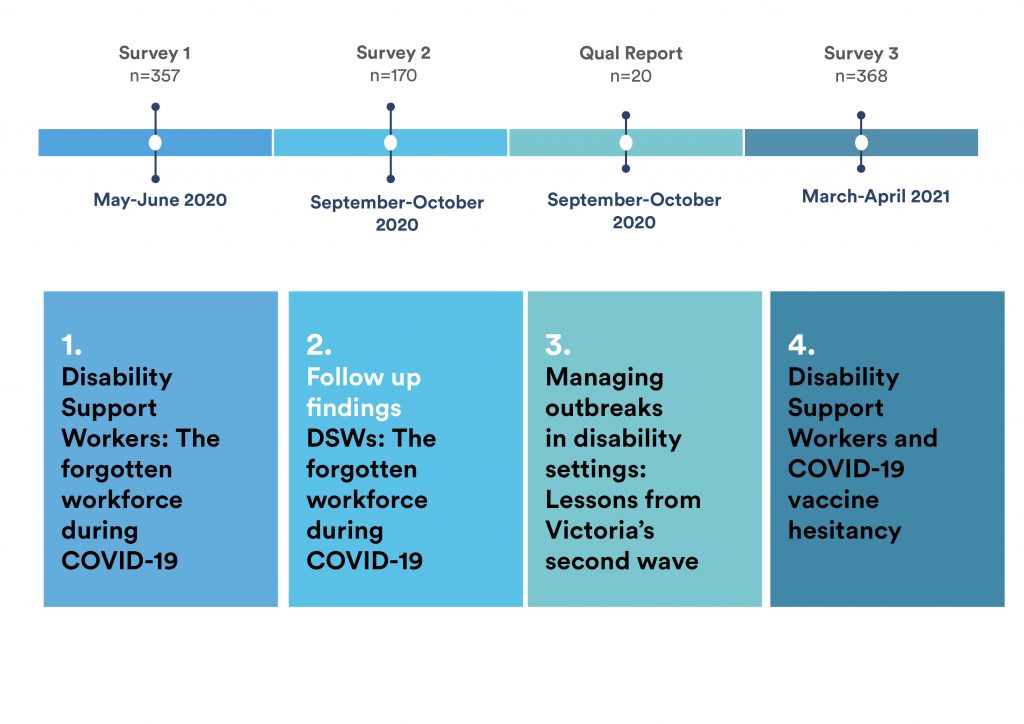 The project was funded by the Melbourne Disability Institute
The University of Melbourne.
---
Reports:
Managing outbreaks of COVID-19 in residential disability settings: Lessons from Victoria's second wave (Web, Word, PDF)
Fact Sheets:
Fact Sheet 1 – Keeping Support Workers Safe, July 2020 (PDF)
Fact Sheet 2 – Financial and Psychological Impacts, July 2020 (PDF)
Media:
Vaccinating the highest-risk groups first was the plan, but people with disability are being left behind, The Conversation, April 2021
COVID-19 and the care sector, Policy Forum, March 2021
Looming COVID-19 emergency in disability support homes, The Age, August 2020
Protecting people with disability during the pandemic, Pursuit, April 2020
The risk of COVID to people with disability, ABC Radio National, 20 August 2020