Public hearing into impacts of COVID-19, Disability Royal Commission
---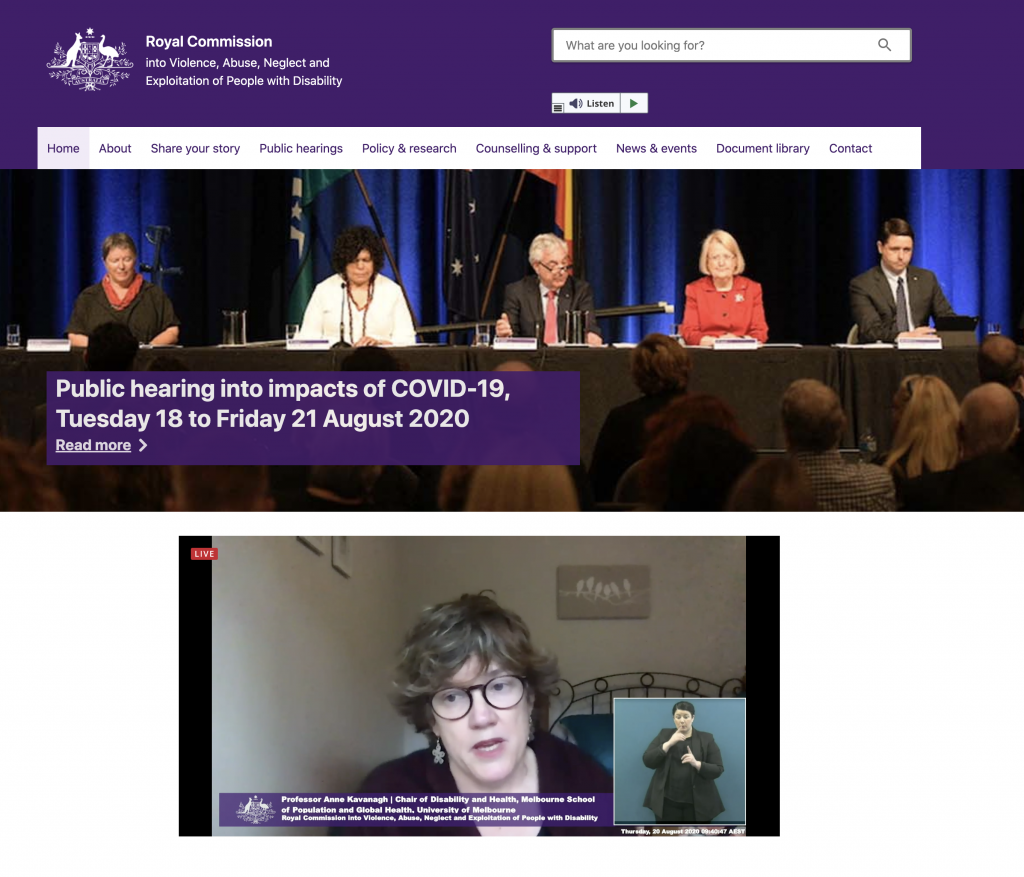 Professor Anne Kavanagh provided evidence on the impacts of COVID-19 on people with disability on 20 August 2020 at the third Public Hearing of the Royal Commission into the Violence, Abuse, Exploitation and Neglect of People with Disability.
In a wide ranging interview, Anne Kavanagh was asked a series of questions on how the COVID-19 pandemic has impacted the disability community and the disability support workforce directly.

She was asked about the public health response, why data on COVID-19 infection cases was important to have and what has been done at a State and Federal level in terms of coordinating responses to safeguard the sector. Senior Counsel Assisting the Commision Kate Eastman also cited the Statements of Concern and Recommendations from the Centre of Research Excellence in Disability and Health (CRE-DH) and spoke in detail to the results of the Disability Support Workforce Survey and Report.
Immediate needs as identified by Professor Kavanagh:
+ Have a prepared workforce so that healthcare workers can work alongside the disability support workforce and be rapidly deployed (State agencies identify workforce resourced by Commonwealth)
+  States and Territories work closely to develop mode of best practice
+ Restrict workers' movements between settings  (Because many DSWs work in aged care)
+ Guarantee paid pandemic leave for the disability workforce
+ Recommend rapid scaling up each State/Territory capacity to respond to disability community 
+ Continue to provide safe disability support services, provide greater outreach to the workers at the services, improve the understanding between disability servicies and health sector
+ Transparency of data on infection rates of COVID-19 among people with disability and their support workers and carers.
A full transcript of the hearing will be available shortly.
The COVID-19 hearing continues until Friday 21 August, and can be streamed here: https://disability.royalcommission.gov.au/