This project provides the most up-to-date population-based estimates on the prevalence of violence and abuse among people with disability in Australia to inform submissions to the Royal Commission into Violence, Abuse, Exploitation and Neglect against people with disability.
In addition, we will identify existing Australian data sources and make recommendations for improvements including potential linkages that could be used to provide more robust estimates of violence and abuse. Co-researchers with disability will work with key stakeholders to design dissemination strategies to maximise the impact of the research.
The project has the following components:
To provide an accessible summary of the prevalence of violence of abuse among people with disability, using the Personal Safety Survey (2018), the only Australian population-based survey of violence and abuse which includes information on disability.
To provide an accessible, policy-relevant summary of the prevalence of violence of abuse among men with disability, using data from Ten to Men study, the only Australian population-based study of Australian men, which also includes information on disability.
To provide a report on the existing administrative and survey data sources in Australia including a summary of how each could be used, the potential for data linkage and recommendations for future research/analysis.
While these analyses will significantly advance our knowledge, the surveys are limited to adults living in private dwellings who can communicate independently. We will also scope existing datasets across State and Territory and Commonwealth governments across multiple sectors. Examples include:
Disability services including the new National Quality and Safeguard Commission data
Child protection
Justice
Education
Health including emergency dept visits and hospitalisations due to violence
We will also identify the potential to analyse existing linked data (e.g. Western Australian linked data which has been linked disability services and child protection data). We will provide the first Australian guide on data sources on violence and disability for future research and policy.
There is a clear gap in the literature about the prevalence of violence and abuse and the settings in which it occurs. This information is critical for the Commission and for monitoring over time. It is also important to identify better ways to capture this information in other datasets.
There is considerable misinformation on the statistics around violence and disability being cited and circulated and this information will provide the most robust statistics we have to date.
_______________________
Outputs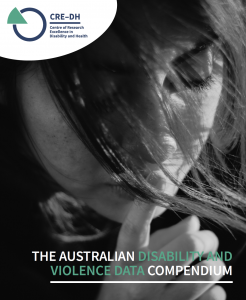 Byars S, Sutherland G, Kavanagh A, Llewellyn G, Krnjacki L, Bollier AM, Hargrave J et al. The Australian Disability and Violence Data Compendium. Melbourne: Centre of Research Excellence in Disability and Health. May 2020.
2. Sutherland G, Byars S, Kavenagh M, Kavanagh A & Llewellyn G. Data needed to understand the scale of abuse faced by people with disability Pursuit, 26 June 2020.